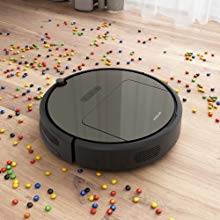 Intense suction pulls up pet hairs, pollen, crumbs, and all lightweight debris. It works as well on thin carpets as it does on hard floors.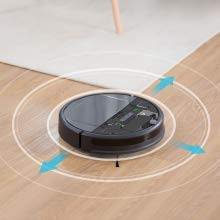 A full suite of sensors gives E35 the intelligence to effectively tackle complicated environments without falling off ledges, getting stuck, or running out of power.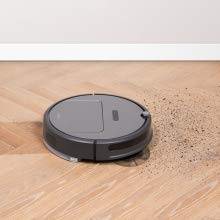 After vacuuming, pick up the finest dirt with the onboard mop. Its water tank allows water to flow only during movement, preventing puddling.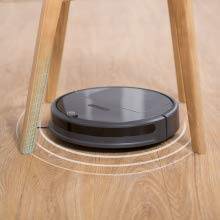 E35 slows automatically before bumping into any obstacles, keeping pets, furniture, and children safe.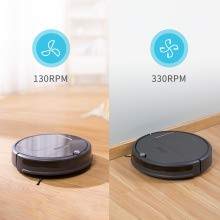 Cyclonic 3D cleaning system
A powerful fan works like a cyclone to create intense suction, while a floating main brush hugs the floor. Alongside it are side brushes and rolling brushes. Altogether these brushes clean the floor horizontally and vertically.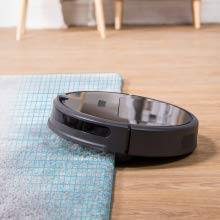 When a carpet is detected, suction is increased to maximum to pull up deeply lodged dirt. Once off the carpet, normal suction returns.
Automatic recharging and resumption
The charging dock fires an infrared beam that allows E35 to automatically return for recharging. If cleaning was not completed before recharge, it will resume from where it left off.
Note: Place the charging dock in an open area. Refer to the user manual for more details.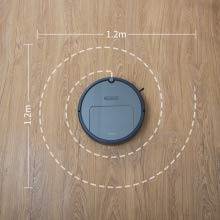 Press the Spot Clean button or tap Spot Clean in the Mi Home app and E35 will draw a 1.2m diameter circle around its current location. If you have an exact spot to tidy, Spot Clean makes it easy.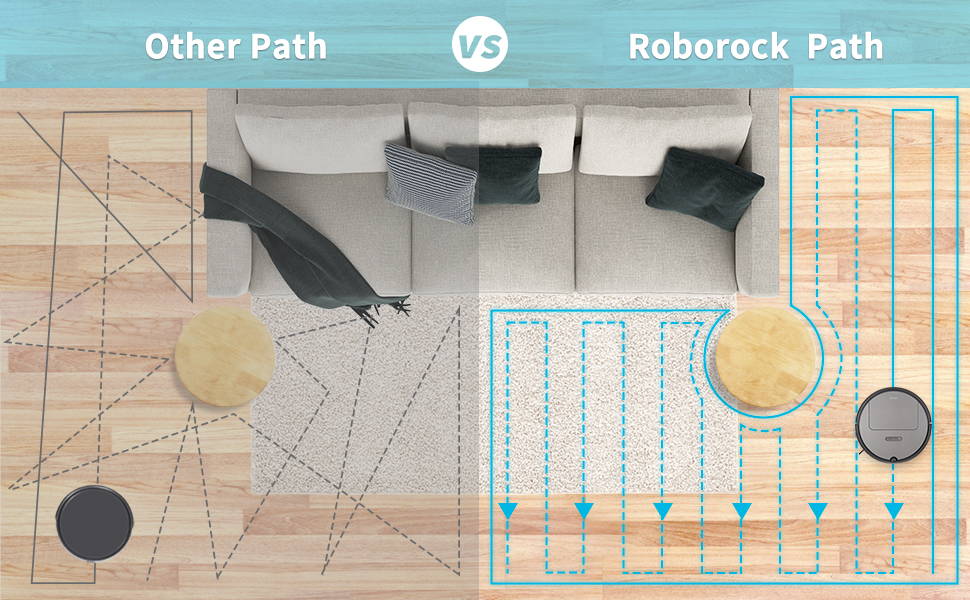 Multiple modes: Carpet, Quiet, Mopping, Balanced, Turbo and Max modes give you the flexibility you need, from quiet night time cleaning to heavy dirt removal.

Tangle Free: All brushes and wheels are designed to be tangle free, eliminating the need to open E35 for cleaning. An included cleaning accessory can be used to remove hair from the outside of the cleaner making it perfect for picking up after your pets.

Obstacle crossing: Able to clamber up over obstacles as high as 0.8in, E35 easily handles thresholds, thin carpets, and other low barriers.

Washable Filter: A high efficiency E11 filter captures 99.2% of dust and allergens, down to just 0.3 microns. Its washable design extends its life and reduces replacement frequency.

Easy installation: The mop water tank clips on without turning over the robot, and the cloth adhere fully to the tank without folds or curls.

Long-life cleaning: One hundred minutes of battery life mean a whole home can be cleaned in a single charge.

Note:
Carpet mode must be enabled in the Mi Home app.
Avoid using Carpet mode on colored or long-pile carpets.
Remove or clear all drapes, plastic bags, cables, and other potential hazards before cleaning.
Steps lower than 2.7inchs may affect safety system operation.
Climbing height is reduced if the water tank is installed